Calla Garden designed by GK Archi is attracting the attention of many customers and is considered a bright spot in the South Saigon area.
Worth living space
In the mid-range segment, the price is about VND 1 billion / unit, many projects are often far from the center, difficult transportation and limited utilities. Meanwhile, Calla Garden is located in the overall urban area (Urban Area) Greenlife 13C scale up to 27 hectares has completed infrastructure so residents will enjoy up to two floors of utilities. Within the Calla Garden area, there is a mini supermarket, a swimming pool, a children's playground, an outdoor coffee area, a garden with a spillway, a luxurious lobby and a parking garage … Especially, the utility system of Greenlife Urban Area 13C is very rich including: AES International Bilingual School (from kindergarten to high school), swimming pool, walking path, restaurant, tennis court, mini football field, park … Security of apartments is also guaranteed by professional security forces and surveillance cameras 24/24 hours.
Located at the intersection of Nguyen Van Linh – Inner Ring, Calla Garden residents are also convenient to go to work, study or use the utilities of Phu My Hung and the center of District 5, District 6 in 10-15 minutes only. thanks to the connected transport network including National Highway 50, Pham Hung, Nguyen Van Cu extended, bridges – Binh Tien road … Especially, residents are more convenient when Calla Garden is located right at the tunnel of Ba Lon Bridge by Tan itself. Binh ICC invests in construction, helps turn around and circulates easily and quickly.

The building density of Calla Garden is only 42% so residents will enjoy a valuable green living space. From Calla Garden you can zoom in on the four directions filled with the green of the plants and the balmy atmosphere. An ideal living space for older people to enjoy the precious moments of life. Parents carefree career development, and children will be raised in a safe environment, in harmony with nature.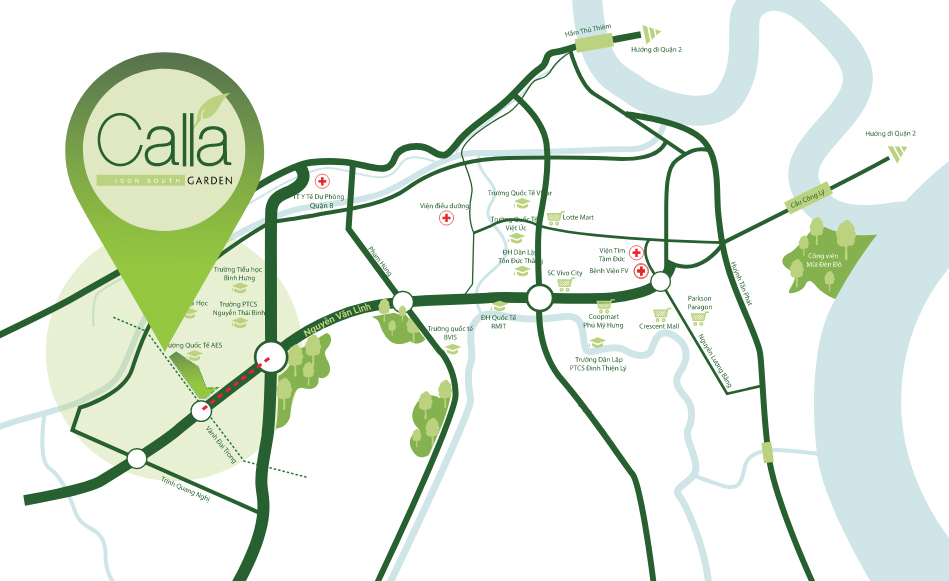 Convergence of perfect values
Located in the Greenlife 13C residential area, Calla Garden is designed by GK Archi to inherit existing facilities such as tennis courts, football fields, swimming pools, AES International School from kindergarten to high school, park … with the Additional facilities such as outdoor coffee area, children's play area, Xgame playground, tropical garden, super tree garden … bring residents a comfortable and modern life. Moreover, with the opposite of Van Hien University, adjacent to the Southern University University area under construction and less than 10 minutes from the new Western Bus Station, Calla Garden converges elements of added value in the near future. next.
Besides, with the professionalism and experience of the investor Tan Binh ICC, Calla Garden has finished building the 4th floor, committed to handing over houses by the end of 2018 with modern equipment such as Malloca kitchen, equipment. Toto toilet, wooden bedroom floor …
Mr. Nguyen Tan Hoang, Director of Phu Hoang Land, the exclusive distributor of Calla Garden, said customers appreciate the prime location, existing utilities, reasonable prices, attractive incentive policies. and quality of interior furniture handover.
Friendly green space design – a hanging garden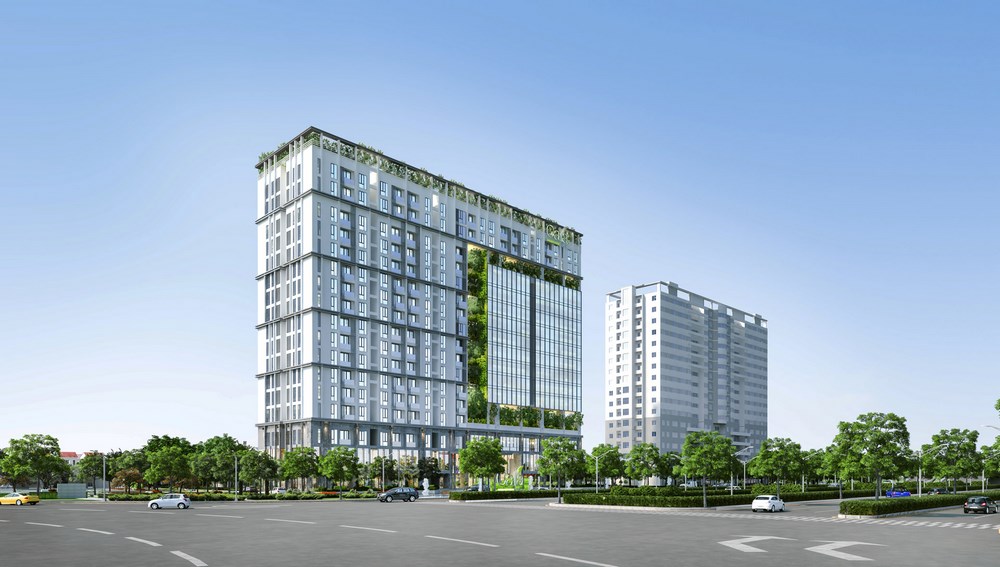 Green space is linked continuously from the surrounding garden to the roof of the building. GK Archi proposes to create 2 green spaces on the 4th and 15th floors of the building, and at the same time connect them with the garden space from between the two tower blocks vertically. GK Archi's space design has created a continuous green area surrounding a block of glass architecture in the middle, creating a garden effect hanging deep into the building, bringing wind elements, water, ventilation to each space.
Standard design inspired by a lush garden gives Calla Garden natural light and fresh air. With the enthusiasm of the investor, residents of Calla Garden apartments will feel a peaceful and full life.
Calla Garden project & real picture
Project information:
Overview of Calla Garden apartment project
Investor: Tan Binh Construction Joint Stock Company (TanBinhICC)
Design unit: GK Archi
Moderator: Architect Nguyen Trung Kien
Location: front of Nguyen Van Linh, front of Vanh Dai Trong, Green Life residential area 13C, Binh Hung, Binh Chanh.
Area: 3700 m2
Construction area: 1580 m2.
Construction density: 43%.
Scale: 2 17-storey blocks, connected by commercial podiums.
Number of apartments: 221 units.
Block Panorama: 77 apartments, 4 shophouse.
Block Tropical: 119 apartments, 8 duplexes and 3 shophouse.
Apartment area: 50 – 74 m2
Year of publication: March 1, 2017.
Year of handover: Quarter I / 2019.
Calla Garden, designed by GK Archi, GK Archi designed